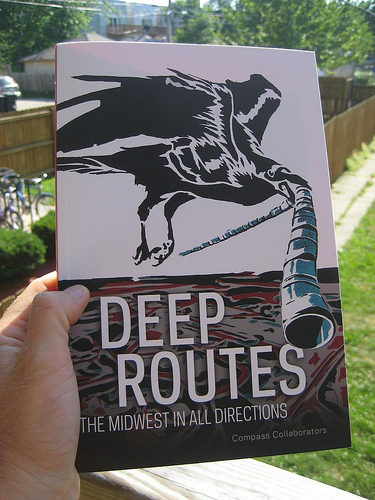 Books can be ordered from our friends at: Half Letter Press   and   Just Seeds
This is a collection of stories about learning where we are – by inhabiting, traversing, and exchanging narratives in the expansive region that some people call the Midwest Radical Culture Corridor. Emerging from a geologic territory shaped by retreating Pleistocene ice sheets and further carved by generations of plant, animal and human habitation, these essays contemplate another planetary shift that has transformed our very existence: global neoliberal capitalism. The authors critically reflect on the nature of territory, citizenship, mobility and the possibilities for a more just and egalitarian society. Drawing from sites within the the Midwest (such as parts of Minneapolis, Detroit, Rockford, Madison, Southern Illinois) and excursions far beyond it (locales as distant as Togo, China and Argentina) the twenty-seven contributors explore the wealth of associations these many journeys have nurtured.
Edited by Rozalinda Borcila, Bonnie Fortune and Sarah Ross. With contributions from: Phil Bellfy, Jen Blair, Rozalinda Borcila, Nicholas Brown, Alan Corbiere , Jill Doerfler , Bonnie Fortune, Ryan Griffis, Abbilyn Harmon, Brian Holmes, Sarah Kanouse, Nicholas Lampert, Sarah Lewison, Jenna Loyd, Don Lyons, Dylan Miner, Faranak Miraftab, Shiri Pasternak, Claire Pentecost, Ryan Rice, Matthias Regan, Sarah Ross, Kristin Schimik, Heath Schultz, Daniel Tucker, Dan S. Wang, and Mike Wolf.  (paperback. 255 pages. black and white text and images, color cover)
Introduction – Bonnie Fortune & Sarah Ross
Radical Migrations through Anishinaabewaki: An Indigenous Re-Mapping of the Great Lakes
– Dylan Miner
Interview with Ryan Rice – Dylan Miner
Searching For Common Ground
Notes on the Project Called Continental Drift – Claire Pentecost
On Community – Dan Wang & Dan Tucker
Notes on Affective Practice: An Exchange – Sarah Kanouse & Heath Schultz
Interview with Don Lyons – Dylan Miner
How Big is a Small Town?
Safe Haven Tent Community in Retrospect – Abigal Harmon
In Anticipation of the Next Leap of Faith: Rockford – Mike Wolf
Between the Bottomlands and World: An Abbreviated Glossary of Experiences in and Around Beardstown, IL – Ryan Griffis & Sarah Ross
Little Egypt – Sarah Lewison
Quiet Fires of All Degrees – Kristin Schimik
Interview with Alan Corbiere – Dylan Miner
Moving Through Regions
Cartography With Your Feet: Workshop Proposal for "Beneath the University, the Commons" – Brian Holmes
Wisconsin's Lost Strike Moment – Nicholas Lampert & Dan Wang / intro by Jen Blair
The Colonizer Who Refuses: Indigenous Solidarity in Toronto – Shiri Pasternak
Riding the Zone – Rozalinda Borcilla
Mountains Beyond Mountains – Bonnie Fortune
Where is the Midwest?
Stories from the Breakdown Lane: Ordinary Affects on the Road to Detroit – Matthias Regan
Where is the Border? Chasing John Brown from New York to Arizona – Jenna M. Loyd
Faraway Intimate Development – Faranak Miraftab
Continental Drift 2011: Argentina / China  – Brian Holmes
Interview with Jill Doerfler  – Dylan Miner
Afterword – Nick Brown