complete project here
It's the tale of two explorers – always a priest and a soldier – they wanted to find the way to China and they found the Mississippi instead. It's a tale that never seems to end, that moves in circles, that encompasses everything, to the point where we all get lost in the telling…
Maybe the tale begins with Marquette and Joliet, the French explorers who set off in a canoe from Québec to find their way to China, then found themselves on the way to the Gulf of Mexico, before they turned back and (with the unsung help of native people) "discovered" the Chicago Portage that crosses the Continental Divide and mingles the waters together.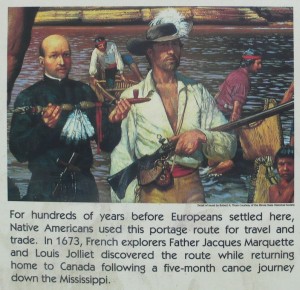 Maybe the tale continues with Authur Stilwell, who tried to build the Kansas City, Mexico and Orient Railway, but ran into a revolution on the way (and even Poncho Villa!), so he went bust and never made it to the Orient of capitalist dreams.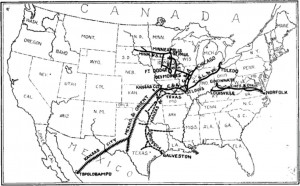 Maybe the tale still continues, traveling down today's Kansas City Southern Mexico line to the port of Lázaro Cárdenas, where the flood of Asian goods come ashore in a terminal built by a Hong Kong corporation from the colonial era. Maybe this tale is told by some obscure action figures hidden in the corners of US and Mexican Wal-Marts that peddle infinite plastic dreams. Maybe it's the old story that founds the brand new continent of Chimerica?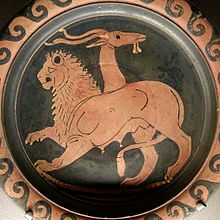 We're not about to discover anything. The "Southwest Corridor" is just the canal, the railroad tracks, the truck routes, and the inland intermodal ports on the way out of Chicago. As for the "Northwest Passage," it's always just out of reach – maybe opening up right now with the icemelt of the pole. Still every good capitalist is dreaming of their own private Orient.
Couldn't we find another way to tell this story?